THE BECK GROUP TACKLES ONE OF THE SOUTHEAST'S MOST AMBITIOUS MIXED-USE PROJECTS WITH TRIMBLE TECHNOLOGY
Design-build firm overcomes complex design challenges, increases efficiency with connected, constructible and content-enabled process.
For over a century, The Beck Group's unique approach to architecture and construction has led to trendsetting, groundbreaking and award-winning work. Today, it is one of the nation's largest integrated design-build firms. With a focus on delivering the owner's vision and architectural design intent on time and within budget, it's easy to see why more than 90% of the firm's projects serve repeat clients.
One of those clients is Simon Property Group, the owner of the South's premier luxury shopping destination, Phipps Plaza. Since acquiring the mall in 1998, Simon has relied
on The Beck Group for multiple projects ranging from parking structures to interior spaces and façade updates at Phipps Plaza. With years of successful projects between
them, Simon approached The Beck Group in 2017 with its biggest project yet: to redevelop Phipps Plaza from a mall into a mixed-use, upscale property with a 150-room
Nobu Hotel and restaurant, 13-story office building, outdoor event venue and 90,000 square foot athletic facility.
To redevelop Phipps Plaza, The Beck Group would need to demolish an existing department store and parking deck to create a new buildable area in roughly the same footprint, all while keeping the existing mall active. In addition to a tight schedule that would minimize impact to retail revenue, the project presented its fair share of challenges. Existing utilities, pile caps and other structures created a below-grade obstacle course that would be difficult to navigate during planning and construction. At the same time, attaching new construction to the existing mall would require precision.
"Not only is this project extremely complex, it's also the first of its kind to repurpose an existing mall this large in North America," said Tim Riefenberg, BIM manager for The Beck Group. "We're a tech-driven firm, so it was clear early on that we would need the most advanced technology to help us overcome the challenges and deliver the project on time."
The Beck Group adopted a constructible process that combined design, project management, and engineering models into a collaborative and data-rich platform centered around Trimble Connect for data sharing. Field-oriented technologies selected provided the contractor with the flexibility to handle a broad range of layout and data collection, including: Trimble Field Link, two Trimble RTS773 Robotic Total Stations, and two Kenai rugged tablets. Beck Group also employed mixed reality on the project to visualize their models in the real world using Microsoft Hololens and Trimble Connect for HoloLens.
Collaboration and data sharing between the office and the field played an important role in the project from the start. In the field, Trimble Connect allowed The Beck Group's field crew to download and view data-rich 3D models in real time on Kenai rugged tablets. "The ability to work from one source of data and extend the value of the model with Trimble Connect has been amazing," said Riefenberg. "We can control the information that goes out to the field from one point of contact. The project's electricians, drillers and mechanical and plumbing crews are all working from the same data-rich constructible model. Hands down, it has helped us eliminate errors and work faster with incredible accuracy."
"BuildingPoint SouthEast came to the jobsite and did an amazing job training our crew and making sure they were comfortable using the robotic total stations, tablets and other Trimble solutions. Not only did they train our team, they also provided insight on the best way to set controls and where to place our prisms. In just two days, our engineers were using the RTS773 in the field and training others on our team with all they learned from BuildingPoint SouthEast."
Trimble Field Link with the RTS773 allowed the crew to easily pinpoint locations from the 3D model and also document existing conditions for real-time data sharing
between the field and the office. "As our field crews were laying out the new structure, they were also capturing existing conditions that would provide critical insight for demolition of the existing structures," said Riefenberg.
The project also presented significant challenges related to grading and elevation. There were no drawings to indicate grading throughout the site, so the team went to work to capture existing topography using Trimble Field Link and RTS773. "Without the robotic total station, our architects and engineers would have needed weeks for redesign, which could have delayed this phase of the project," said Riefenberg.
In order to ensure that The Beck Group maximized its use of Trimble's tools and technology, BuildingPoint SouthEast, a Trimble distribution partner, worked closely with the project engineers to train them and help get them quickly up-to-speed.
NEED AN EXTRA PAIR OF EYES ON YOUR JOBSITE?
SiteWatch Pro 2 Smart Security Camera might be the solution for you.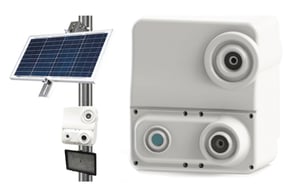 Sensera Systems'® SiteWatch PRO2 Series intelligent remote site monitoring solution combines thermal, low-light and color cameras with video analytics and 4G LTE communications in one integrated system. This smart camera is perfect for 24/7 monitoring capable of real-time alert notifications (pushed to your email or mobile device via
SMS). All video analytics are executed inside the camera, and only video relating to actual events is sent to the cloud for archival and viewing.
Features & Benefits
• Complete End-to-End Solution
• Light-weight, Small Footprint
• Integrated Modem for Cellular or WiFi Connectivity
• Easy to Move or Reposition
• All-weather Outdoor/Indoor Housing
• Automated Health Monitoring
VDC CORNER
SiteVision | Build with Confidence
Four ways SiteVision can help your project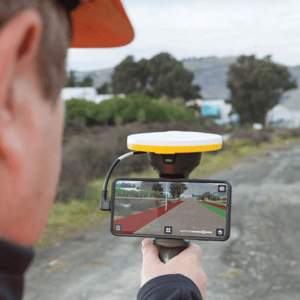 Transform complex data into simple and clear visualizations that give context to critical information on the jobsite -all from a user-friendly augmented reality app on your mobile device.
Data Support.
SiteVision supports BIM models: .SKP, .IFC, and .DWG formats via Trimble Connect, including rich attribute support for data in .IFC and .SKP formats.
Visualization Tools.
Toggle between 2D and 3D views, adjust transparency for real-world design comparisons and see detailed, fully textured models to easily communicate the visual impact.
Reporting.
Take augmented reality photos and quick measurements, and add notes to create tasks, report status, request clarifications, and share or assign them with project members, all in real time.
Model Positioning.
Georeferenced models can be automatically or manually positioned and adjusted with incredible ease and accuracy relative to property boundaries and other critical points onsite.