HOW WARWICK MECHANICAL GROUP OUTSOURCED 3D MODELING SERVICES TO BUILDINGPOINT SOUTHEAST TO INCREASE EFFICIENCY
Did you know that BuildingPoint SouthEast offers VDC services? We understand the balance between staying competitive yet making financial sense, which in turn can play a factor in how you make decisions to ensure your team can focus on what they do best. BuildingPoint's 3D Modeling and VDC Services collaborates closely with your team to produce quality results for your project, no matter the size of your business. We had the opportunity to speak with Virtual Construction Manager, Bryan Aker and Project Manager, Adam Parker from Warwick Mechanical Group about how BuildingPoint SouthEast's VDC Services has contributed to their success.
Warwick Mechanical Group, formerly known as Warwick Plumbing & Heating Corporation, is a full-service mechanical contracting firm, providing mechanical systems for commercial, industrial, medical, and institutional facilities throughout Southeastern Virginia, Central Virginia, and Northeastern North Carolina. Warwick started their VDC department 10 years ago but then stopped as they were very manpower heavy. Bryan explains, "The way BIM goes is that you're either running it 100% or 30%." This meaning, there were a lot of ups and downs in labor needs resulting in many people waiting around for the next BIM job. BIM/VDC professionals have a very niche skillset, so one of may not be able to apply their skills to layout verses the other way around. Also, being a Union job, they're unable to go outside of their job duties.
That is when Warwick decided to outsource their VDC Services – which led them to BuildingPoint SouthEast. Bryan found BuildingPoint through internet search and noticed their Trimble affiliation. This made him comfortable moving forward as they already established trust in the Trimble brand [Warwick uses our Trimble RTS873 units for laying out duct and piping]. Since then, BuildingPoint's VDC expert Ryan Pastor has been working hands on with Warwick on several different projects.
"Ryan has always made himself available whenever there were issues. Anything that has come up has been handled promptly. His crew is thorough in what they are doing and leaves no stone unturned. Not only are they thorough, but they understand the importance of being thorough." – Bryan Aker
Adam explains further that if you're not accurate, the team would have to try to install it, modify it or worse, take it back to get fixed – all of which takes time that they don't always have. Warwick has had ample experience with outsourcing services, so they have a firm grasp of what they need to be successful and what they look for in a VDC partner. "You can either get 'em cheap or get 'em good," says Bryan. Which is why at BuildingPoint SouthEast, we make high quality work at a top priority.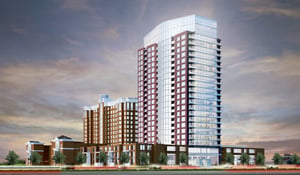 The River Tower Project:
Located in Norfolk, Virginia, the 24-floor high rise has incredible amenities and features including a rooftop that overlooks the Elizabeth River. The River Tower project is just about complete and as they reflected on the project and BuildingPoint's involvement, this is what Bryan had to say: "Ryan was involved pretty heavily for the actual design [and redesign of it]. This project was getting designed on the fly. We would have everything coordinated and then someone would decide they wanted to change their floor plan." It's important that your VDC team can quickly adapt to any sudden changes or hiccups along the way and in order to do successfully, you have to possess a large understanding of how construction workflows operate.
The Aquaplex Project: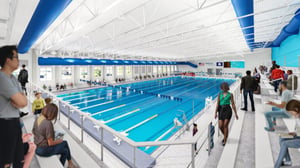 Adam Parker is overseeing the ongoing, Hampton, VA-based project – a singular building with a competition pool, smaller program pool and an outdoor splash park with water slides. This project was unique to Adam as he needed to learn a slew of new products. On top of that, there were underground duct work and paddock coordination which took significant effort between Adam and the manufacturer. Because there were a lot of moving parts and complex coordination, having high levels of communication was vital.
Our team was able to help Adam and his crew connect the dots throughout the process. Adam explains, "Every week Warwick had an internal coordination meeting with the BuildingPoint team to discuss any issues that they saw as we progressed through the week. We had a leg up when they would do their larger meetings because we already had a good idea of what those issues were and we were ready to address them, so that was extremely helpful." Being that Adam had a bit of learning curve during this project, BuildingPoint's team came in handy as they took a lot off his plate and put the pieces of the puzzle together while Adam was able to focus on his other responsibilities more closely. Also, there were times where the schedule suddenly changed which meant a quick turnaround time. Ryan and team were able to manage the two-day turnaround time, get the materials quickly and were overall very accessible when things changed last minute.
Overall, Warwick Mechanical Group has looked to BuildingPoint SouthEast as a partner and reliable resource when it comes to VDC services. Ryan and team take pride in providing services that fit your specific needs and timelines. Want to learn more about our VDC services? Click here to get more information.
Interested in getting to know more about Warwick? Click here.
NOW INTRODUCING: MONITORING PRODUCTS FOR VARIOUS APPLICATIONS
Does your project include monitoring or other instrumentation? Self-performing this work can save thousands of dollars, but it is only possible if you have the required time, guidance and a good partner. Our sister-company Duncan-Parnell can support you in taking on monitoring and provide tools from great brands like Trimble and Senceive. Duncan-Parnell can help guide you in bringing the required monitoring and instrumentation work in-house and making your projects more profitable by utilizing our Trimble products.
Why consider Duncan-Parnell for Monitoring?
Expertise

– A dedicated business development representative, who is a licensed surveyor, a professional engineer and monitoring expert with over 30 years of experience
Suite of Monitoring products

and technologies for a variety of applications
Customizable solutions

for any need or budget
Ongoing training

and assistance
Meet Their Monitoring Expert | Joe Priestner
Joe Priestner, PLS, PE is the emerging Technology Manager at Duncan-Parnell, focused specifically on Monitoring in the Geospatial division. Joe is a wealth of knowledge with over 30 years of experience in surveying, monitoring and many other application. Learn more about Joe and our services here.
MORE THAN COOL TECH: HOW MIXED REALITY IS CLOSING THE CONSTRUCTION GAP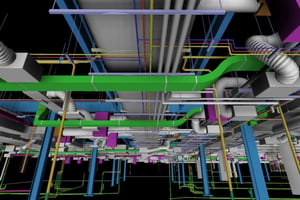 When you hear the terms "mixed or augmented reality," you may not immediately think about business and industry. But mixed reality (MR) is much more than the latest game craze; it's playing a big part in construction. Like it's sister technologies, virtual reality (VR) and augmented reality (AR), mixed reality is solving some of the industry's biggest challenges by enabling better communication and collaboration.
MR combines both immersive and interactive concepts of reality. Wearing a headset with a lens, the user can see digital content overlaid onto the actual environment. The headset's cameras and sensors measure the user's physical surroundings to determine where the user is located. Then holographic processing renders 3D images (holograms) onto the lens. The holograms are positioned in context of the location and are only visible to the user. Using hand controls, the user is able to manipulate the hologram and perform other tasks in the context of the physical environment.
What makes MR particularly effective in construction is that it's giving contractors and subcontractors new ways to visualize a project in context on the work site. When everyone can see how the project will unfold in the real world and how certain components will be installed and integrated with others, teams develop a shared understanding of the project and the work to be completed. Because everyone can visualize the same desired end result, they can communicate and coordinate effectively. Click here to read the full story on mixed reality.
TRIMBLE FIELD LINK 6.0 UPDATE
BUILDING CONSTRUCTION SPECIALIST
SCOTT STEVENS

SHARED HIS THOUGHTS ON THE NEW UPDATE.

We're so excited to announce the release of Trimble FieldLink 6.0 to the market! This is a significant release that increases overall workflow efficiencies and adds some significant new features as well. I've included the release notes below as well as my takeaways in bold text.

What's new in this release:

FieldLink Software
Transform, scale and rotate model by picking two points on two models (split screen) office and now tablet
Gridline Setup "Reference Elevation Toast" has been added
Scott's take: This great new feature allows you to import a CAD file and a PDF and marry them in the field real-time. Now, you don't have to take the time to insert two different drawings and setup twice. Big time saver for the field guy with multiple CAD files for the same project.
Jobs/Imports/Exports
Support current Navisworks Files in Field Link (NWD)
Scott's take: Perhaps the biggest update since adding the scanning module into FieldLink. Now we can import Navis drawings into the field software. This allows us to import almost any CAD file from the office straight into the field with little effort.
Measure
Allow additional file formats for 'Stake to Surface' (IFC and DXF)
Scott's take: Prior to this update only LandXML files were allowed to be imported from layout to the surface. Adding IFC and DXF means that most softwares can send surface files to the field for layout. This will help out the field teams for building pads/grading and parking lots.
Scanning
Scan – extract detail/density from selected region
Ability to search for target when user taps somewhere near to target in station view
Support X7, FW: R2.2103
Create TFL point from scan data
Scan elevation data set
The T100 Tablet now supports scanning with the X7
Scott's take: Being able to section off a portion of your scan data on the fly and extract the full density of the point cloud is a tremendous step in technology. Also, we introduced the new T100 tablet to the X7. This new tablet will make life a lot easier virtually doubling the processing speed of the T10.