In today's construction industry, VDC (Virtual Design & Construction) is becoming an ever-increasing buzzword often being used interchangeably with 'BIM' in conversations. Even the larger construction companies sometimes need to leverage outside resources in some cases for their VDC process work. This is true in the case of Choate Construction. Choate is one of the largest general contractors in the Southeast, exceling in both new
construction and renovation projects, with offices across multiple states.
Just a few months after an initial meeting with BuildingPoint SouthEast representatives in 2016, Choate found themselves reaching out to BPSE reps regarding VDC work on a large project (Red Ventures C & D buildings) in Fort Mill, SC. Choate did not have a BIM Manager in the Charlotte market and needed 2D architectural drawings created in AutoCAD converted to 3D Revit models to be used as a background model for coordination.
Said Todd Barrett, Director of VDC, Choate Atlanta, "Meeting with the BuildingPoint SouthEast team, and Ryan Pastor specifically,…he had been in our shoes, knew the types of challenges we face, how a VDC and BIM group operates. I felt – these guys get it." As the project came to life, the scope of services evolved a bit. Choate was made aware of a large audio visual scope that was drawn in 2D as well. Given the complexity of the A/V package (video boards, projection screens, stage lighting, cameras, speakers), they felt challenges would arise in the field if these elements were not also put into the model Ryan and Building Point SouthEast was working on.
Without hesitating, Adam Simpson (Choate's VDC Manager) contacted Ryan to coordinate a call with the owner's A/V vendor, to walk through scope to figure out what was involved from the A/V side and get an additional price worked up. "Don't know how we would have done that otherwise (without BuildingPoint SouthEast)," said Adam. Use of the 3D model even evolved into beneficial time-saving layout utilizing robotic total stations. "The ceilings in the auditorium were very complex with multiple angles and radiuses, but thanks to the work that BuildingPoint SouthEast had done, we were able to ensure the ceiling subcontractor would be set up for success and be much more efficient with his install."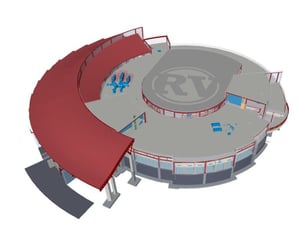 So Choate got BPSE in touch with Bonitz, the ceiling sub-contractor, to understand the constructability of these intricate cloud ceilings. Ryan pulled in one of the hardware/layout specialists from BPSE to train them how to use a Trimble Total Station to execute laser layout for installation of hangers for the ceiling system based on points created from the highly accurate and detailed 3D model. The Result? Zero re-work that kept the aggressive schedule on-time. In addition to the scope which grew beyond the original 2D to 3D modeling to layout, Choate points to another valuable addition they hadn't expected from the BuildingPoint team – an in-depth and consistent QA/QC process through the project.
"The constructability review and flushing out the inconsistencies in the drawings (usually things you wouldn't find until you're out in the field) earlier and not when it costs money, were definitely beneficial. Especially on this Red Ventures project,"stated Adam. "The speed with which BuildingPoint SouthEast was able to find the issues, identify them, address them, … it kept pressure on the architect. The problem-solving piece of it was honestly something we didn't expect because it was the first time we used BPSE, and we expected a 3D model within a month, but we instead got a model and constant QA/QC process, which was impressive."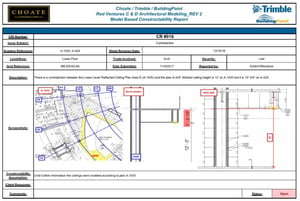 They say the only constant in construction is change; and this project definitely evolved from its original goal at the onset. However, with that growth of a project, also came the growth of a relationship. As Todd pointed out, "We see BuildingPoint SouthEast as a big resource for how we (at Choate) integrate VDC into our core business going forward.