There are so many benefits that mixed reality has to offer the construction industry. This technology is a valuable asset to the industry because it combines reality with digital information, allowing contractors and subcontractors to see, comprehend, and enhance projects more efficiently. In this guide, we'll explore the various benefits of mixed reality in construction and examples of how exactly construction professionals use them.
What Is Mixed Reality in Construction?
Mixed reality refers to the technological innovation that provides a combination of the virtual and real worlds. Users can see holographic data in a real environment, such as 3D models, 2D linework, or 1D points. Some variations of extended reality similar to mixed reality include augmented reality (AR) and virtual reality (VR). Mixed Reality takes the immersiveness from VR and the overlay capabilities from AR, thus the term 'mixed'. The global mixed reality market has accumulated a compound annual growth rate (CAGR) of 71.6% from 2018 to 2024.
This innovative technology allows project managers, architects, engineers and designers to create a virtual copy of what they plan to build. These professionals can walk around with an accurate view of individual systems or the building as a whole, to see how the finished project will look. This virtual tour allows them to detect areas for improvement early on in production, saving time and costs. The holographic device, Microsoft HoloLens, was specifically designed to make mixed reality effective in the construction industry. The Trimble XR10 makes the device construction-ready by integrating it on a standard hardhat as well.
Examples of Mixed Reality Uses in Construction
Imagine you're at a construction site. You need to develop an upper floor of a building, including a few pillars and stairs. While a 2D design could help you envision the structure, a 3D experience that displays the scale, proportions and dimension will bring it to life.
With a holographic device attached to your hard hat, you get to visualize it all with highly detailed 3D models. In that moment, mixed reality can overlay digital features on-to your real-life setting. The best part is that you can get a closer look at these digital replicas and find potential errors and hazards before the actual construction.
Various businesses around the world are using mixed reality to enhance their operations, and here are some real-life examples of why:
Training and safety: Gilbane Building Company uses mixed reality in construction for realistic safety training to prepare them for real-world construction site hazards and create a controlled and safe work environment.
Quality assurance and inspection: AECOM uses MR to spot discrepancies, improve accuracy during inspection and streamline the quality assurance process.
Design visualization: Skanska uses mixed reality to save time in decision-making, reduce design errors and ensure all stakeholders have a deeper understanding of the project.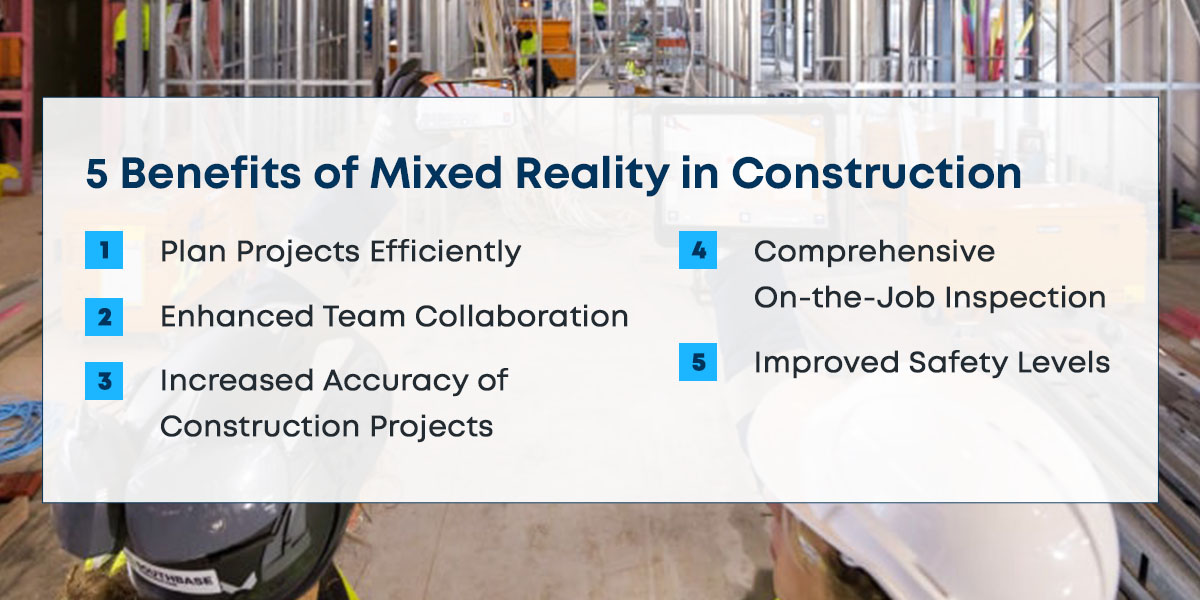 5 Benefits of Mixed Reality in Construction
As we now know, mixed reality is an excellent tool for precise project coordination and attaining high levels of efficiency. This technology allows construction professionals to interact intuitively with design data and create more robust designs. Below, you'll discover all the in-depth benefits this holographic technology offers construction companies.
1. Plan Projects Efficiently
Using 3D models in construction improves efficiency in two main ways. For one, you can cut down a significant amount of time during the design process because 3D modeling technology allows you to illustrate the virtual 3D model, in close-to-reality detail, from the beginning. When you work with 2D drawing, you may spend a lot of your time finalizing the design and making manual additions so that everyone fully understands your design.
Mixed reality makes construction work faster and more intuitive with its wide scale of hands-free access to data. This has an amazing impact on day-to-day activities because rather than fetching data manually and interpreting and decoding 2D drawings, you get to have a more enriching user interface with full 3D features for you to leverage.
2. Enhanced Team Collaboration
To perform any successful construction project, you need multiple teams. For this reason, collaboration and coordination is essential to completing successful projects on schedule and within budget. In some cases, when a challenge arises, all the necessary professionals need to assemble to review the blueprints and make changes accordingly. Oftentimes, these individuals may take a while to arrive or they need to halt the project until they can hold a discussion.
The great thing about mixed reality is that you can share video recordings and take notes about any design issues in real time. After sending the information to the relevant teams, both on-site and remote team members can discuss the issues and work together to find a solution, reducing the time and costs needed to hold that meeting in person.
3. Increased Quality of Construction Projects
Mixed reality can be a huge help to construction teams during inspections and quality assurance. As digital models overlap physical structures on the construction site, they're able to perform precise checks and easily notice discrepancies in the actual construction compared to the plans. For higher levels of accuracy such as intricate data, measurements, and other details mixed reality can be paired with laser scanning during or even before any construction starts. This is a great way to navigate all project phases and help ensure construction goes smoothly from start to end.
4. Comprehensive On-the-Job Inspection
Another great feature of using mixed reality in construction is that you can access so much digital information and documentation within your physical view. If you want to review the location of pipes, outlets, ventilation or walls, it'll be right there for you to toggle on and off. This allows you to effortlessly compare and monitor the physical structure against your building plan to ensure successful development.
5. Improved Safety Levels
Mixed reality's capability to allow users to walk through virtual designs helps them discover potential safety concerns early in development. Along with saving time, costs, and resources, this holographic data also helps reduce the chances of workers encountering construction hazards. This is especially helpful if your teams are working underground because mixed reality allows you to see where underground pipes and cables are so that workers can avoid them.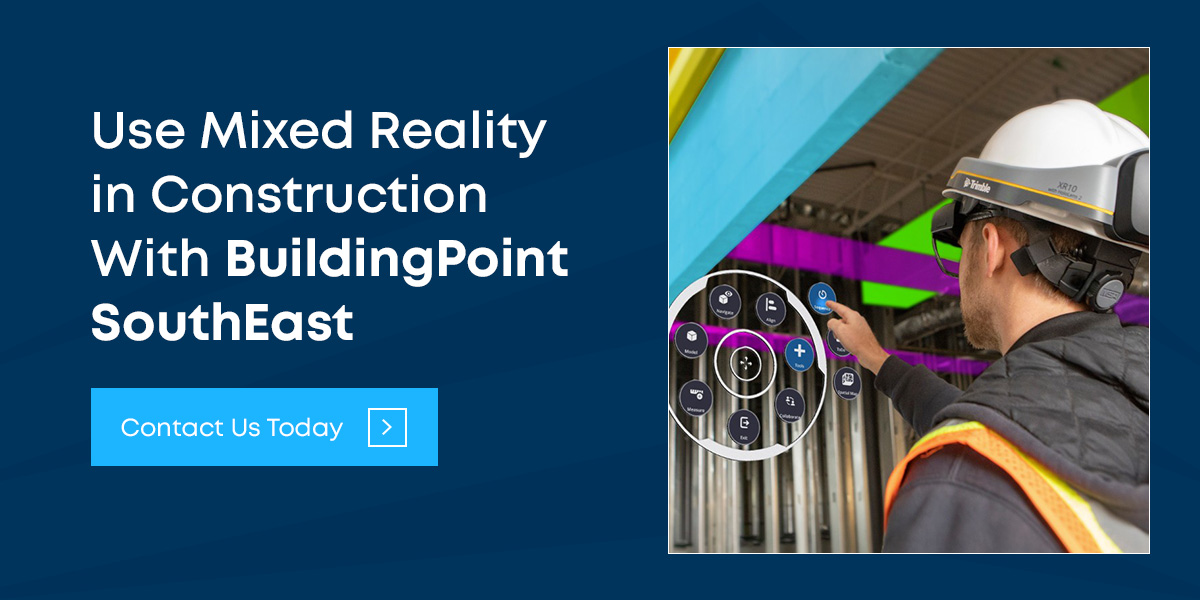 Use Mixed Reality in Construction With BuildingPoint Southeast
With more construction companies growing technologically advanced, it's easy to see why mixed reality uses in construction are becoming so popular. If using technology to streamline the construction process appeals to you, BuildingPoint SouthEast provides quality mixed-reality solutions with the Trimble XR10 with HoloLens and Trimble Connect for Mixed Reality.
At BuildingPoint SouthEast, our goal is to help construction professionals excel in their construction project processes while staying safe and improving their quality of work. Feel free to contact us online to learn more about our mixed reality solutions or call us at
844-784-3494 today!