Executive Summary
Buchanan Concrete of the Carolinas, Inc. has performed hundreds of large concrete projects throughout the Southeast.
Their pattern of quality work, completed on-time, and within budget has enabled Buchanan Concrete to develop many long-lasting relationships.
Notably, on two large scale projects that Buchanan Concrete completed in 2016, they utilized the Trimble RTS (Robotic Total Station), Trimble Field Link, and Yuma2 Tablet to point layout both projects. Both projects included a great number of anchor bolts, embeds, dowels, and rebar requiring placement with precise tolerance. Buchanan Concrete was able to achieve results utilizing the right technology for the job.
Extreme accuracy with no need for rework
Efficient layout helped exceed project milestones
Seamless coordination with Project Managers, Steel Crews, and other trades using field layout reports
"The way Buchanan Concrete constructed this foundation will be the benchmark of future Air Traffic Control Towers" – FAA's Project Representative
Challenges
PROJECT Foundations & Walls at Red Ventures – Building 4
Buchanan's work included foundations for multiple buildings, flatwork, and exterior paving. The challenges presented were:
Setting hundreds of anchor bolts within 5 different radius points
300,000 square feet / 3 buildings
Precisely setting 400+ embeds
PROJECT Air Traffic Control Tower Foundation at Charlotte-Douglas International Airport
Buchanan's work included foundations, flatwork, and exterior concrete paving.
1,060 #9 rebar dowels for precast panels to attachment to foundation
1/8" max. tolerance on dowel embeds
16-sided Tower (Hexadecagon)
9'-0" thick foundation with 277 tons of rebar / 2,300 CYs of concrete
72 sets of bolts connecting the Trecon building to the tower via a catwalk
How the Product Helped
The Trimble RTS is designed for contractors that require quality, accuracy and optimum field performance. Best of all, only one person is needed to operate the equipment. "One man can layout a project … on both horizontal and vertical planes. What could've taken months of intense layout, took half the time with the Trimble RTS," said Doug Russell, Buchanan's Project Supervisor.
The RTS also features the ability to view and document actual job site conditions from the perspective of the total station when performing layout, collecting data or generating field reports. It works with Trimble Field Link, which runs on the Trimble Yuma Tablet.
"The reports generated from field layout assisted the General Contractors' coordination with steel erectors, and MEP contractors" said Ronnie Elkins, Buchanan's Superintendent.
Trimble Field Link helps with the increasing needs of contractors implementing Virtual Design & Construction (VDC) and Building Information Modeling (BIM). Noe Figueroa, Buchanan's Foreman, noted, "No matter how bright the sun, it was easy to read the tablet."
Results, Return on Investment, and Future Plans
Buchanan Concrete achieved extraordinary results by implementing the Trimble RTS and Field Link for accuracy and increased efficiency.
PROJECT: Foundations & Walls at Red Ventures / Building 4
AIRPORT TOWER – setting precast walls over dowel embeds
Anchor Bolts & Embeds placed with accuracy
Buchanan exceeded the project schedule by weeks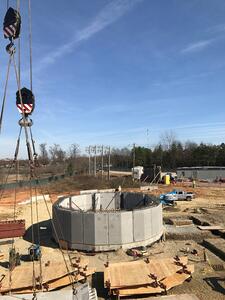 PROJECT: Air Traffic Control Tower Foundation at Charlotte-Douglas International Airport
Achieved the field layout in half the time
Set anchors and embeds in tolerance
Precast fit perfectly; eliminating any need for rework.

AIRPORT TOWER – setting precast walls over dowel embeds