With a downturn in laborers because of the COVID-19 pandemic and the recent inflation increases in the second half of 2022, businesses everywhere are experiencing a significant challenge to keep up with the changing economy. The labor shortage is affecting the construction industry, particularly because of a lack of skilled workers able to perform the work needed for projects.
Read on to learn about the construction industry labor shortage and find a potential solution to your concerns.
Why Is There a Labor Shortage?
Before diving into the nuances of the construction labor shortage statistics, you should understand why there's a general labor shortage in the U.S. When the pandemic first started, many people lost jobs or quit to ensure their safety. In 2021, a year into the pandemic, more than 47 million workers quit for various reasons, including:
Early retirement
To find more flexible and better work-life balance jobs
Child care issues
Continued health and safety concerns
To receive more compensation somewhere else
Additionally, the toll the virus took on many peoples' health has affected their ability to work. Those with long COVID and still able to work may not work as often as before or miss more days than in the past. Fewer workers due to fatalities or chronic illnesses contribute to the labor shortage we see today.
How the Labor Shortage Affects the Construction Industry
The challenges affecting the country's general labor shortage reflect the issues present in the construction industry. With fewer people working in the field or choosing different career paths, completing projects is more complicated than ever. Construction companies may miss out on multiple bids because they need more employees to work on each project. In addition to fewer workers overall, there's also a skilled labor shortage, making it challenging for companies to find qualified workers who can complete services in time to meet project deadlines.
The rising costs of supplies and wages also make it difficult for companies to take on projects and keep as many workers as possible. Some projects may not continue because the clients or construction companies no longer have the resources to complete them.
While labor shortage was apparent during the pandemic, employment issues started well before it. The rates of workers leaving the field rather than entering it were high, perhaps partly due to how construction is considered an aging workforce. The most experienced workers are getting older and more inclined to retire or find a less physically demanding career, which makes finding younger employees even more important.
However, attracting younger generations may be more difficult because other industry sectors are becoming more competitive. According to the Associated Builders and Contractors (ABC), the construction industry must recruit around 650,000 workers on top of the regular hiring pace to keep up with the labor demand for 2022.
In 2021, Congress passed the Bipartisan Infrastructure Law (Infrastructure Investment and Jobs Act). The law puts precedence on rebuilding the country's bridges, roads, and railways and tackling various issues, such as access to clean drinking water and the climate crisis. With increased spending to maintain the nation's infrastructure and address other projects, the need for skilled workers is more important than ever. The labor shortage can impede the start of some projects because there aren't enough people to get the work done.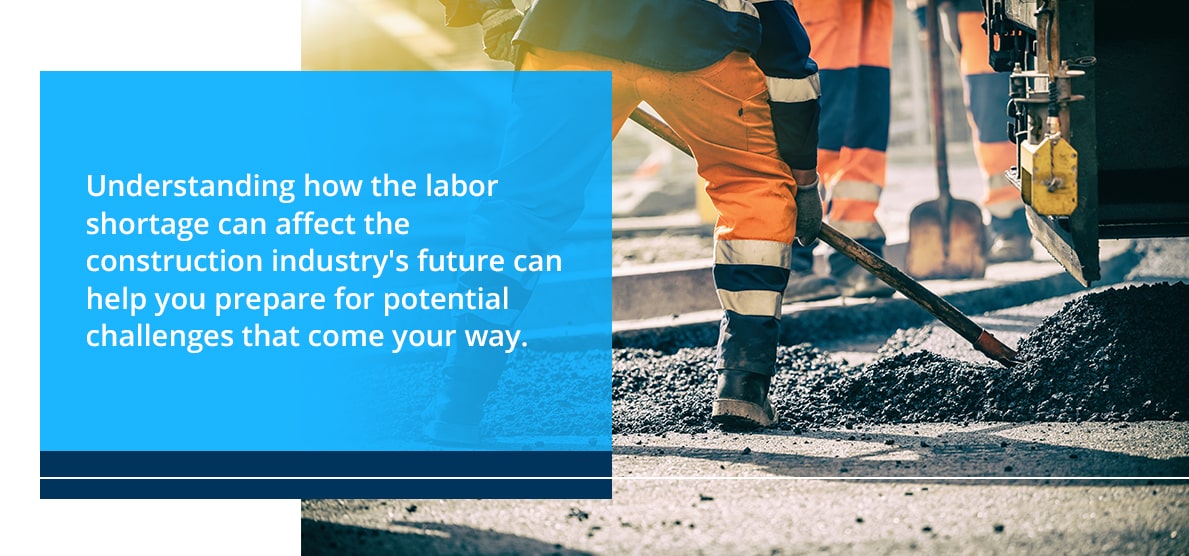 Construction Labor Shortage Statistics
The construction labor shortage reflects many trends in the general labor shortage nationwide. With many job positions open but a lack of new applicants or hires, it could take the construction industry a while to recoup the losses caused by the pandemic.
Here are some construction labor shortage statistics that show the impact of the pandemic and the projected trends for the industry's future:
While the construction labor shortage magnified to 16.6% in April 2020, in July 2022, the U.S. Bureau of Labor Statistics reported that the

unemployment rate was 3.5%

for the construction industry.
More people have quit the construction industry compared to those leaving because they got fired or laid off.
It's anticipated that

more than 40%

of the current U.S. construction workforce will retire within the next decade.
Wages in various sectors increased, making finding workers extremely competitive. While construction wages

went up about 8%

between December 2019 and 2021, wages in warehousing and transportation grew 12.6%.
Though workers trying to leave sectors like retail are open to working in construction, the continued challenges of finding child care or visiting government offices make it hard to join the industry.
The construction worker shortage can affect construction companies' insurance coverage.
The construction industry's compound annual growth rate (CAGR) is projected to

grow by about 3.5%

from 2022 to 2027.
To keep up with industry demand in 2023, an estimated 590,000 new workers will need to enter the construction workforce on top of the normal hiring pace.
Understanding how the labor shortage can affect the construction industry's future can help you prepare for potential challenges that come your way.
BuildingPoint SouthEast Solutions: Robotic Total Stations
Many construction companies continue to suffer from the labor shortage. When you need a solution for your construction worker shortage, BuildingPoint SouthEast can help. You no longer have to worry about what to do if you lack employees to conduct field layout work. Robotic total stations (RTS) are the solution to your worker shortage. They provide a one-person solution, helping a single worker complete the tasks of multiple jobs efficiently by using digital technology.
The innovative Trimble RTS technology used in each robotic total station solution improves productivity, efficiency and the workflow of fieldwork, helping make your projects successful. Field layout equipment like Trimble RTS offers many advantages, such as:
Increasing work accuracy
Improving job site layout and measurement efficiency
Operating with one person
Enhancing quality assurance
Reducing rework
Each RTS has a rugged design to withstand various job site conditions, helping minimize downtime from repairs. You can also pair Trimble RTS with Trimble Field Link, a construction software that works for the field and office. The combination lets contractors complete their work with more enhanced processes. Using Trimble RTS and Trimble Field Link, contractors can:
Generate field reports
Conduct in-field measurements
Analyze floor flatness
Visualize 3D models while in the field
RTSs are the perfect solution for construction companies struggling to obtain new hires. With these one-person operations, you can achieve the results needed to complete a project while keeping some construction costs down.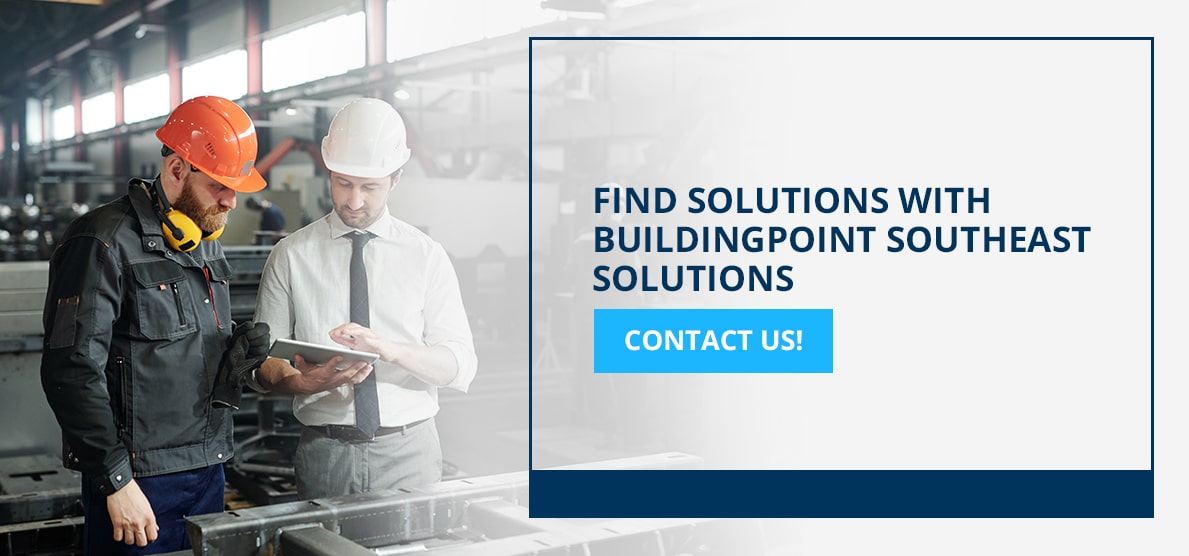 Find Solutions With BuildingPoint SouthEast Solutions
BuildingPoint SouthEast prides itself on being a resource for all field workers. When you need to streamline your workflow or find solutions for the construction worker shortage, we can help. Browse our site or contact us today to learn how we can help enhance your workflow.