For industry outsiders, engineers and surveyors can seem like they're the same profession. That's not the case, of course — they're two separate professions, with specific skill sets and responsibilities. They do, however, coordinate with one another throughout planning and construction, whether for residential, commercial or government projects, which is why both parties are essential.
What Is the Difference Between Engineers and Surveyors?
How do surveyors work? Compare a surveyor versus an engineer, and you'll see several noticeable differences, including:
Purpose
The roles of surveyors and engineers are different, but also supportive of one another. A surveyor, which may specialize in building, quantity, land or party wall surveys, researches and develops blueprints for the engineer to reference. An engineer, who will focus on civil engineering for construction projects, utilizes a surveyor's work to establish a building plan.
Education
Because of their unique roles, surveyors and engineers undergo different training. A surveyor, for instance, may earn a degree in surveying and mapping, while an engineer may graduate with a degree in general engineering that focuses on one of the many engineering subsets, such as chemical, civil, structural, electrical or mechanical. In most instances, both professions will have a bachelor's degree.
Responsibilities
The two professions are responsible for following up throughout construction, with the surveyor confirming the engineer's plan via as-built surveys and the engineer completing any modifications in response to those surveys. The idea is for engineers and surveyors to ensure the soundness of a structure, as well as its safety, before construction begins or progresses too far.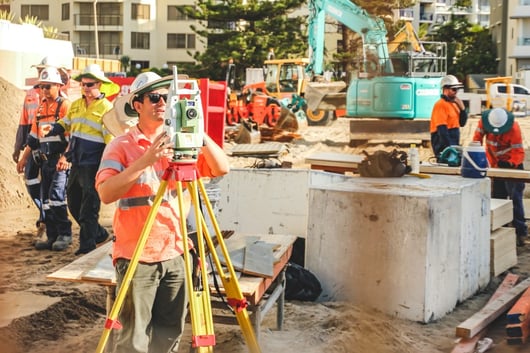 Do You Need a Surveyor or Engineer for Building Projects?
As the overview of engineers and surveyors demonstrates, you need not only a surveyor for building projects but also an engineer. Lose either from your team and your construction work will not move forward. Both parties are critical to a project's success, as your surveyor completes the necessary research and data collecting that your engineer uses to develop a sound, safe design plan.
The two professions also serve as checks and balances for work sites. If your site includes hills, valleys or obstructions, the surveyor will account for these features in their surveys, which your engineer will reference and design around. Meanwhile, if your crew is deviating from an engineer's blueprint — even by a few millimeters — your surveyor will correct the issue, ensuring the plan's followed to a tee.
In short, engineers and surveyors are essential members of your team, as well as partners.
Boost the Productivity of Engineers and Surveyors
At BuildingPoint SouthEast, we understand the critical role of surveyors and engineers. That's why we maintain a comprehensive selection of product solutions and services for both professions, from new and rental layout tools to estimating and labor tracking software. Our team also provides equipment repair as well as one-on-one support for estimating and project control software, ensuring the efficiency and productivity of your engineers and surveyors.
Discover the full advantage of our services and products by contacting us today, or call us at 844-784-3494.